Bed Bath & Beyond, the home goods retailer, has filed for bankruptcy protection and is seeking approval from the courts to auction off its assets. The company has been indicating the possibility of bankruptcy since January.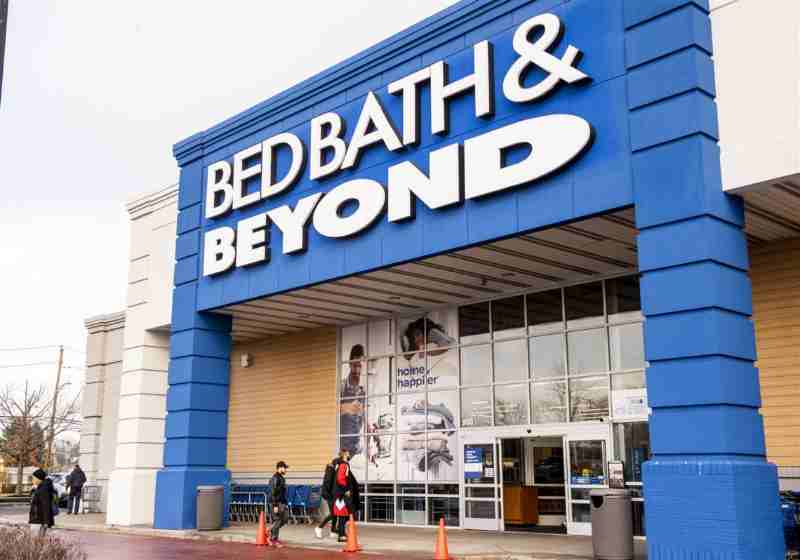 On Sunday, Bed Bath & Beyond declared bankruptcy by filing for Chapter 11 after several failed attempts to raise enough funds to keep the company afloat. The home goods retailer had been cautioning about the possibility of bankruptcy since January, when it issued a "going concern" notice indicating a lack of cash to cover expenses following a poor holiday season. The company's shares closed at 29 cents on Friday, resulting in a market value of $136.9 million, and a decrease of approximately 88% this year. By comparison, in April last year, the shares were trading at around $20 each.
The company will keep its 360 stores under its flagship brand and 120 Buybuy Baby stores open for now, while starting to wind down the business and sell off its assets. However, it has filed requests with the New Jersey bankruptcy court to allow it to auction off the two brands, according to a statement released by the company. The closure of all Harmon FaceValue stores has already been confirmed.
According to court filings, as of late November, Bed Bath had assets worth around $4.4 billion, and debts totaling $5.2 billion. The company owes the most money, $1.18 billion, to BNY Mellon, with a long list of other creditors including Keurig, Pinterest, and Blue Yonder. The number of creditors ranges from 25,001 to 50,000, and the company employs around 14,000 non-seasonal workers.
In a statement, CEO Sue Gove expressed gratitude to the millions of customers who have trusted Bed Bath & Beyond and buybuy BABY for important life events, such as going to college, getting married, starting a family, and buying a new home. She also praised the company's teams for their hard work and dedication to strengthening these beloved brands.
Bed Bath has secured a loan of $240 million from Sixth Street to provide the necessary financial support during the bankruptcy process. The company has confirmed its commitment to pay its employees' wages and benefits, maintain customer programs, and fulfill obligations to its vendors.
Holly Etlin, a seasoned retail restructuring specialist and a partner and managing director at AlixPartners, has been appointed as Bed Bath's CFO and chief restructuring officer, according to the filings.
According to Neil Saunders, a managing director at GlobalData and retail analyst, Bed Bath and Beyond has acknowledged the failure of its business model and has filed for bankruptcy. Saunders noted that this outcome was inevitable, as the company could not sustain its operations indefinitely.