Last week, the comedic fantasy production "Barbie" by Warner Bros., directed by Greta Gerwig, faced a ban in Vietnam. The film centers around the beloved doll and her adventures.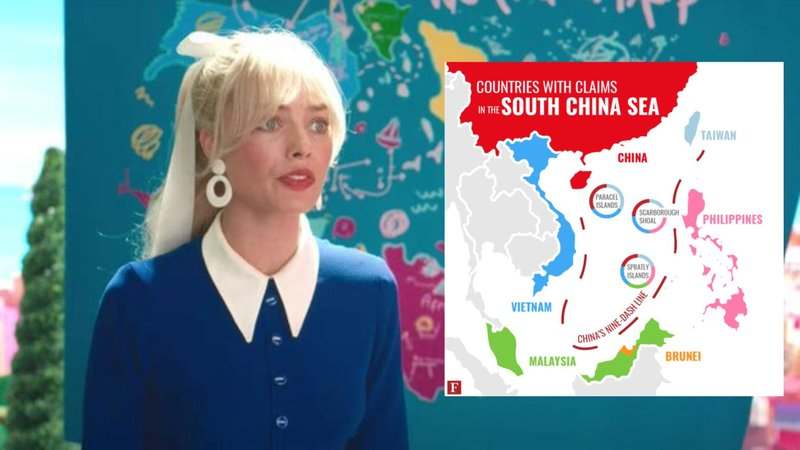 The Philippines has granted clearance for the release of the movie "Barbie" despite initial calls for a ban due to a controversial map depicting China's "nine-dash line." The country's film review board has determined that the map in question is portrayed in a cartoonish manner and does not represent the disputed South China Sea region claimed by China.
Warner Bros.' "Barbie" unexpectedly became a source of controversy this summer, following Vietnam's recent decision to ban Greta Gerwig's comedic fantasy production centered around the iconic doll. Promotional trailers of the film reportedly included a scene featuring the contentious "nine-dash line," which is utilized by China to assert its territorial claims over the majority of the South China Sea.
In a statement issued on Wednesday, the Philippines' Movie and Television Review and Classification Board stated that after reviewing the movie twice and consulting with foreign affairs officials and legal experts, they are convinced that the scene in question does not depict the "nine-dash line" but rather a fictional representation in a lighthearted manner. As a result, they have approved the film for release in the country.
Warner Bros. has been requested by the Philippine board to blur certain lines in their film to avoid potential misinterpretations, as reported by the media.
In 2006, the Philippines raised a complaint against China in an international tribunal at The Hague regarding the disputed waterway. The tribunal ruled against China, but tensions remain high as Beijing continues to reject the verdict.
Several other Asian countries, including Vietnam, Indonesia, Malaysia, Taiwan, and Brunei, have also voiced their opposition to China's ongoing construction of land installations, which they perceive as an aggressive land grab. The South China Sea, where these disputes arise, is a vital trade route rich in minerals, with trillions of dollars' worth of ship-borne trade passing through annually.
Responding to Vietnam's ban on the film, a spokesperson for Warner Bros. Film Group described the map depicted in the movie as a child-like crayon drawing. They clarified that it illustrated Barbie's fictional journey from Barbie Land to the "real world" and was not intended to convey any specific message.
Although the film authorities in the Philippines may have accepted this explanation, they issued a warning to all filmmakers, producers, and distributors. The review board stated that it would not hesitate to impose sanctions or bans on films that portray the "nine-dash line" in contradiction to the law.
The film features Margot Robbie as Barbie and Ryan Gosling as Ken, both embarking on a self-discovery journey after being expelled from the utopian Barbie Land.