Recently published data from the Federal Trade Commission reveals that consumers registered losses of nearly $8.8 billion due to fraudulent activities in 2022, marking a surge of over 30 percent compared to the preceding year.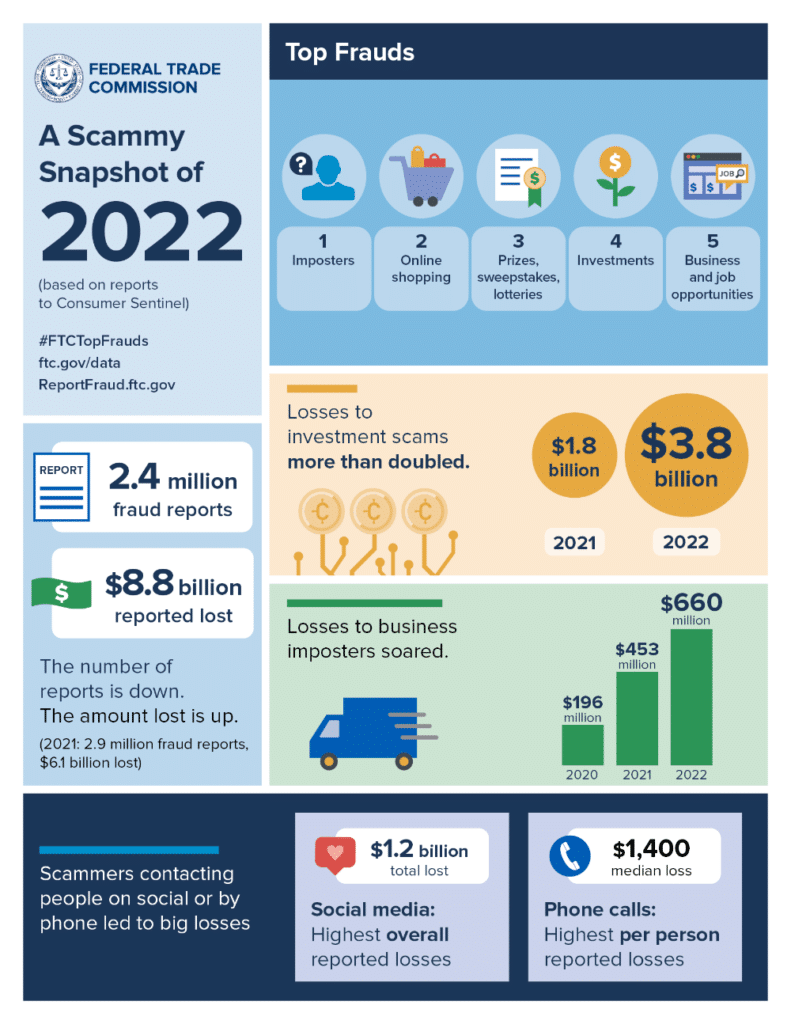 In 2022, investment scams caused consumers to lose over $3.8 billion, surpassing all other categories. This figure is more than twice the reported losses in 2021. Imposter scams ranked second, with reported losses of $2.6 billion, an increase from $2.4 billion in 2021.
Last year, the FTC registered fraud complaints from 2.4 million individuals. The most prevalent were imposter scams and online shopping scams. Following closely were reports related to prizes, sweepstakes, and lotteries, along with investment-related complaints, and business and job opportunity fraud, completing the top five categories of fraudulent activities.
The FTC's Consumer Sentinel Network functions as a database that compiles reports directly from consumers and various sources including federal, state, and local law enforcement, the Better Business Bureau, industry members, and non-profit organizations. A total of 23 states contribute data to Sentinel.
During 2022, Sentinel accumulated more than 5.1 million reports. These reports encompass fraud, identity theft, and complaints involving other consumer matters like credit bureaus, banks, and lenders. Notably, the FTC's IdentityTheft.gov website received over 1.1 million reports of identity theft in the same year.
The FTC utilizes the reports gathered from the Sentinel network as the initial step in numerous law enforcement inquiries. Additionally, the agency distributes these reports to around 2,800 law enforcement experts at the federal, state, local, and international levels. Though the FTC doesn't intervene in individual grievances, Sentinel reports play a crucial role in fulfilling the agency's law enforcement objectives.
Source of Story :