Uber now provides package shipping through UPS, FedEx, or USPS on its apps. It costs $5 for up to five packages or $3 for Uber One members.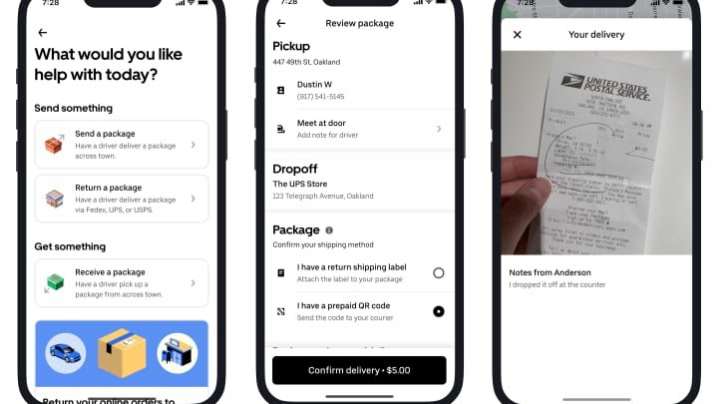 Uber has recently introduced a new feature that expands its services beyond ride-hailing and food delivery. Customers can now utilize the "return a package" feature available in both the Uber and Uber Eats apps. This feature allows users to send up to five packages simultaneously for a flat fee of $5 or just $3 for Uber One members. Uber drivers will pick up these packages and ensure their delivery to popular carriers like UPS, FedEx, or USPS.
"Return a package" is now accessible in numerous major metropolitan areas throughout the United States. This new feature complements the existing Uber Connect program, which was introduced in 2020 to provide same-day delivery options for sending packages to and from local destinations.
To use Uber Connect, packages must be prepaid, securely sealed, and ready for shipping. They should weigh less than 30 pounds and have a value below $100. Uber's shipping guidelines also prohibit the transportation of certain items, including cash, gift cards, and fragile goods.
Customers will have the convenience of tracking their packages in real-time using the Uber app. Upon completion of the delivery, they will receive a photo of the receipt for confirmation. Additionally, standard tipping options are available for package deliveries.
This expansion into package shipping demonstrates Uber's commitment to diversifying its services and meeting the evolving needs of its customers beyond transportation and food delivery.